The diversity advantage: transfer of knowledge on migrants' integration
Ten different local communities from wider Europe exchanged knowledge, experience and good practice
on migrants' integration last 7 June in Venice, Italy, within the framework of the 3-day international activity "
Reframing urban cohesion in European cities
", second transnational step of the project URGENT.
***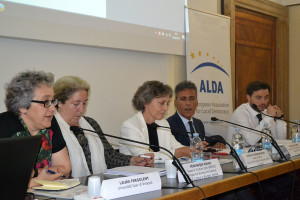 URGENT, Urban ReGeneration, European Network of Towns
, is a 2-year project funded by the programme Europe for Citizens, that aims at improving social cohesion in local communities by promoting migrants' integration through the development of urban policies fostering intercultural dialogue and the use of common spaces.
The event was an occasion to exchange creative solutions to bring positive change at the local level. Local authorities, civil society associations, academics and ordinary citizens shared their expertise while acknowledging the need of acting through multi-stakeholder approaches in order to put into network resources and knowledge that already exist in all communities.
International and local stakeholders had an opportunity to deeply exchange in the framework of the public seminar held on 7 June. The opening session was moderated by Laura Fregolent, IUAV University of Venice, with the contributions of Véronique Daugent, Head of Culture Unit of UNESCO Regional Bureau for Sciences and Culture in Europe Luisella Pavan-Woolfe, Head of Office, Council of Europe Programme Office in Venice, Giuseppe Aiello, Representative of Veneto Region, and Aldo Xhani, ALDA European Citizenship programmes Coordinator, who stressed the need to work on the governance model as fundamental element to successfully promote migrants' integration in our communities.
An interesting view on the migration issue from the other side of world was given by Josefina Perez Espino, from RECFronteras, who joined the conference to bring in similarities and differences between the US-Mexico and European migration process. Under the moderation of Elena Ostanel, SSIIM UNESCO Chair of IUAV University of Venice, the second panel benefitted of the contributions of Marcello Balbo, Director of SSIIM UNESCO Chair, IUAV University of Venice, Lorna Muscat, Representative of SOS Malta and Chair of the Migration Path of LADDER project, and Francesca Lionetti, Representative of the Intercultural Cities Programme of the Council of Europe.
The last session, chaired by Giovanna Marconi, SSIIM UNESCO Chair from IUAV University of Venice, was dedicated to showcase concrete local policies labelled as good practice. Natalia Maramotti, Councillor for Security, Culture of Legality, and Historic City of Reggio Emilia Municipality, Gianfranco Bonesso, Representative of Venice Municipality, Jean-François Maljean, Project Manager of the Municipality of Etterbeek (Belgium), and Alexander Van Leuven, Project Officer in charge of Positive Identity and Society Education from the Municipality of Mechelen (Belgium) presented key successful examples.
Useful links: