New open-access Book: Precarious Housing in Europe – A critical guide
Now online the final publication produced within the framework of PusH Strategic Partnership!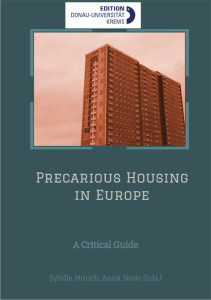 Whilst a number of case studies, journal articles, and policy briefs scrutinize different aspects of precarious housing across Europe, this Critical Guide adds to the debate on causes, symptoms, consequences and possible solutions and makes them accessible for teaching, learning and self-study across multiple disciplines in higher education.
The Critical Guide consists of seven chapters dedicated to particular manifestations of precariousness or specific groups affected by precarious housing.
Contents: 
Chapter 1 introduces the concept of precarious housing, while chapter 2 outlines the wider structural changes in European economies and housing policies that have led to a lack of affordable housing. Chapter 3 then examines one of the key consequences of a growing lack of affordable housing in Europe, housing evictions and the displacement of residents. Chapter 4 considers how a migration status impacts migrants' ability to access affordable, safe, and secure housing generally and for refugees in particular. Chapter 5 covers forms of housing that might be considered 'informal', with a special emphasis on Roma communities. Chapter 6 examines experiences of homelessness and how different European states and cities have responded to a growth in homeless populations. Chapter 7 presents and discusses different policy responses that try to alleviate precariousness in housing.
Chapter 4 "Migrants' Right to Adequate Housing: Barriers, Policies and Practices" was produced by SSIIM Unesco Chair researchers Michela Semprebon, Giovanna Marconi, Francesca Ferlicca and Flavia Albanese. Its first draft was discussed during a multiplier we organised in June 2021, to which a number of colleagues, experts, practitioners and also students participated, contributing to an exercise of collective review. We really thank all of them as well as PusH Strategic partnership partners who also contributed to it through revisions, discussions and by writing some insights on specific topics/contexts that were included in the chapter.
The book is open-access in pdf format:
For direct download > click here
To visit the dedicated page in the publisher's website > go here
---
This book and the corresponding e-modules are the product of intensive inter and transdisciplinary collaboration and intellectual exchange that received funding by the Erasmus+ Programme of the European Union as "PusH – Precarious Housing in Europe". Running from 2019 to 2022, this Strategic Partnership united colleagues from seven institutions from both older and younger EU member states. It was coordinated by Leuphana University in Lüneburg (Germany) and SSIIM Unesco Chair based at the University of Venice was one of the project partners.